GNER
Welcome to scot-rail.co.uk, Scotland's online railway community. The group is for any rail enthusiast interested in the railways and trains of Scotland. It not only consists of the wiki that you're reading now, but a busy online forum and mailing list, which is accessible to anyone who registers. If you would like to join in, all you have to do is register with us for free.
Great North Eastern Railway (GNER)
was owned by Sea Containers Group.
GNER operated the InterCity East Coast franchise from 1996 to
8th December 2007
, running trains from London King's Cross to Yorkshire and Scotland.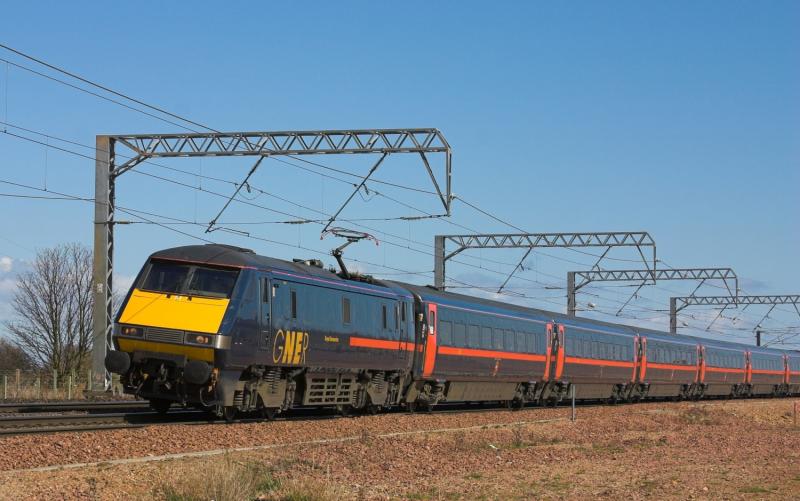 91120 Royal Armouries races towards Edinburgh with a service from London Kings Cross whilst sporting GNER livery. Photo by Ewan Tait
Trains running north beyond Edinburgh served Glasgow Central (via Carstairs), Aberdeen (4 trains a day) and Inverness (1 train a day).
GNER's first term franchise started on 28 April 1996 for seven years, later extended another 2 years to April 2005. GNER won a second term, starting 1st May 2005 for seven years with a further three years if specified performance targets are met. However, GNER found that terms of new franchise it had agreed were unsustainable, and combined with the financial difficulties of its parent group, led to the franchise being terminated early.
The GNER route was transfered to
East Coast
on
9th December 2007
.
During the later years of its first term, GNER extended its HSTs to 9 coaches, started "
Mallard
" refurbishment of the thirty Mk.4 trains and introduced Wireless Internet - (WiFi) on its trains.
An
HST
refurbishment scheme was started by GNER, bringing them up to the same standard as the "
Mallard
" trains. The first refurbished HST entered service in March 2007.
GNER rolling Stock
GNER fleet
| | | | | | | |
| --- | --- | --- | --- | --- | --- | --- |
| Original no. | New no. | Engine | Name | Admitted | Released | In service |
| 43006 | 43206 | MTU | Kingdom of Fife | 24th October 2007 | | |
| 43008 | 43208 | MTU | | 17th July 2007 | 1st October 2007 | 20th October 2007 |
| 43038 | 43238 | MTU | City of Dundee | 28th June 2007 | 29th August 2007 | 1st October 2007 |
| 43039 | | Valenta | | | | |
| 43051 | | Valenta | | | | |
| 43053 | | Valenta | | | | |
| 43056 | | Valenta | | | | |
| 43057 | | Valenta | | | | |
| 43077 | | Valenta | | | | |
| 43090 | 43290 | MTU | | 23rd March 2006 | 15th December 2006 | 27th December 2006 |
| 43095 | | Valenta | Perth | | | |
| 43096 | 43296 | MTU | Stirling Castle | 15th May 2007 | 17th July 2007 | 21st July 2007 |
| 43099 | | Valenta | | | | |
| 43100 | 43300 | MTU | Craigentinny | 23rd March 2006 | 1st December 2006 | 7th December 2006 |
| 43102 | | Valenta | Diocese of Newcastle | | | |
| 43105 | | Valenta | City of Inverness | | | |
| 43106 | 43306 | MTU | Fountains Abbey | 9th January 2007 | | 3rd May 2007 |
| 43107 | | Valenta | Tayside | | | |
| 43108 | | Valenta | Old Course St. Andrews | | | |
| 43109 | 43309 | MTU | Leeds International Film Festival | 24th April 2007 | 28th June 2007 | 3rd July 2007 |
| 43110 | | Valenta | Stirlingshire | | | |
| 43111 | | Valenta | Scone Palace | | | |
| 43112 | | Valenta | Doncaster | | | |
| 43113 | 43313 | MTU | The Highlands | 1st October 2007 | 30th November 2007 | |
| 43114 | 43314 | MTU | East Riding of Yorkshire | 30th November 2006 | 16th February 2007 | 21st February 2007 |
| 43115 | 43315 | MTU | Aberdeenshire | 30th November 2007 | | |
| 43116 | 43316 | MTU | The Black Dyke Band | 29th August 2007 | 30th October 2007 | 31st October 2007 |
| 43117 | | Valenta | Bonnie Prince Charlie | | | |
| 43118 | 43318 | MTU | City of Kingston upon Hull | 12th March 2007 | 15th May 2007 | 30th May 2007 |
| 43119 | | Valenta | Harrogate Spa | | | |
| 43120 | 43320 | MTU | National Galleries of Scotland | 23rd October 2006 | 9th January 2007 | 11th January 2007 |
| 43167 | 43367 | MTU | Deltic 50 1955 - 2005 | 15th February 2007 | 24th April 2007 | 2nd May 2007 |
Bodyside adverts:
43051: Tutankhamun.
43099: WiFi is here,
43290: Leeds/London.
43039, 43367: Online booking.
43116, 43120: London 2012
| | | |
| --- | --- | --- |
| 91101 | City of London | |
| 91102 | Durham Cathedral | |
| 91103 | County of Lincolnshire | |
| 91104 | Grantham | |
| 91105 | County Durham | |
| 91106 | East Lothian | |
| 91107 | Newark on Trent | |
| 91108 | City of Leeds | |
| 91109 | Samaritans | |
| 91110 | David Livingstone | Named for the famous explorer |
| 91111 | Terence Cuneo | Named for the railway artist |
| 91112 | County of Cambridgeshire | |
| 91113 | County of North Yorkshire | |
| 91114 | St Mungo Cathedral | Named for the cathedral in Glasgow |
| 91115 | Holyrood | |
| 91116 | Strathclyde | |
| 91117 | Cancer Research UK | |
| 91118 | Bradford Film Festival | |
| 91119 | County of Tyne and Wear | |
| 91120 | Royal Armouries | |
| 91121 | Archbishop Thomas Cranmer | |
| 91122 | Tam the Gun | Named for the gunner of the One o'clock gun |
| 91124 | Reverend W Audry | Named for the author of Thomas the Tank Engine |
| 91125 | Berwick upon Tweed | |
| 91126 | York Minster | |
| 91127 | Edinburgh Castle | |
| 91128 | Peterborough Cathedral | |
| 91129 | Queen Elizabeth II | |
| 91130 | City of Newcastle | |
| 91131 | County of Northumberland | |
| 91132 | City of Durham | Originally numbered 91023 |
DVT - Driving Van Trailer
A few had vinyl names and advertising applied in the later years of the franchise
82219 named
Duke of Edinburgh
from the original Mallard set
82217
Off to the Races
82218
International Indian Film Acadeny Awards
(from June 2007)
82224
Passionate People Passionate Places
Named Trains
The Flying Scotsman: 1S11 1000 London KX - Edinburgh, 1E15 1200 Glasgow C. - London KX
The Northern Lights: 1S12 1030 London KX - Aberdeen, 1E10 0955 Aberdeen - London KX
The Highland Chieftain: 1S15 1200 London KX - Inverness, 1E12 0755 Inverness - London KX
See Also
External Links